Microneedling uses tiny needles to pierce the skin allowing new collagen to grow. This procedure uses your skin's own natural healing ability to reduce the look of fine lines, scars and wrinkles. Microneedling is an easy and minimally invasive procedure that improves the following skin conditions:
• Rough skin texture
• Wrinkles
• Fine lines
• Crow's feet
• Laugh lines
• Surgical scars
• Acne scars
• Chicken pox scars
• Large pores
• Sun damage
• Aging skin
• Stretch marks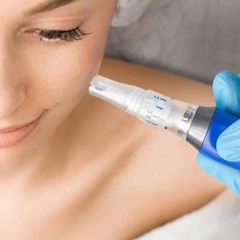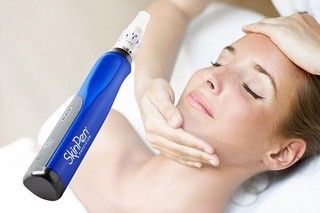 Microneedling with PRP (Platelet-Rich Plasma)
Often, results of microneedling can be further improved when used in combination with Platelet-Rich Plasma (PRP). Studies have shown that PRP can expedite the healing process of tissues and reduce the appearance of pigmentation and acne scarring when used with microneedling. PRP treatment involves using the patient's own blood as a resource to isolate the platelets with a centrifuge. Because the blood is directly from the patient, the risks of the body rejecting the plasma or having an allergic reaction are minimal. The blood is separated into 3 layers which leaves the PRP available for use during the microneedling process. PRP contains proteins and several growth factors that regulate and activate cell migration and stimulate the production of collagen and elastin.
SkinPen® Precision Microneedling
As the very first FDA-cleared microneedling device, SkinPen is used here at The Local's Laboratory. Trusted by leading dermatologists, aestheticians, and other skincare professionals, SkinPen creates micro-channels (microscopic holes) at a rate of 1600 per second. These wounds stimulate your skin, kicking its healing process into high gear. Best of all, SkinPen doesn't rely on heat or chemicals, so the results are natural and safe for all skin tones and types.
Three treatments are recommended, each one a month apart. Downtime is approximately 24-48 hours and sun exposure is limited for 2 weeks. There are no restrictions in terms of exercise or additional products after 72 hours.
Cost of each treatment is $550. A series of three is $1500 if purchased at the initial visit.